OUR PURPOSE
Our purpose is simple. We want you to have healthy skin and, most importantly, understand that you feel your best when your skin is looking its best. Symply by Helena believes in a holistic approach to beauty and skincare - helping you to feel comfortable and self-assured from the inside, out. We specialize in organic, all-natural skincare products that use only the highest-quality, cleanest ingredients. 
Skincare deserves a personal approach, so we take pride in helping our community understand the importance of continued education around the benefits of our products - how to use them and how they can be part of an overall healthier lifestyle.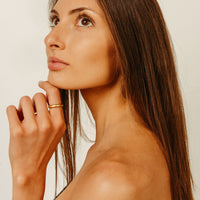 MEET OUR FOUNDER
Meet our founder, Helena Schultz. Inspired by the philosophy that natural, uncomplicated, ingredients have the power to create change inside and out, Helena has created a beautiful line of skincare products that have changed her skin completely - and she can't wait for you to see the same results. After having struggled with sensitive skin and Eczema she took matters into her own hands and created a skincare line formulated with completely natural ingredients, 100% free of dyes and fragrances.
Testimonials
I've only been using the simple cleanser and moisturizer for 2 weeks and can already notice a difference in my skin! I love the consistency and absorption of the moisturizer and it has the best subtle citrus scent. I highly recommend this moisturizer.

Suzie
"This face cream is light and refreshing on the skin. My boyfriend has commented on how soft my skin has been ever since I started using it. Amazing product 10/10 would recommend.

Michaela
This line is really the first in 43 years my skin has taken too and I have rosacea, sun damage, pigmentation, eczema (a dermatologist's favorite patient-:). This line cleared up my dry patches, redness and flakey skin. 

Shannon
This exfoliant is such a good product. When you wake up in the morning, wash your face with this scrub. I personally use this every day. It helps remove the stuck on filth from my skin making way for a new day! Not to mention it leaves your skin super soft and clean.

Madelin
Working in the ER and wearing a mask for hours causes me to break out all around my mouth and chin. I started using Symply products and Not only did my acne clear up. it stayed away with such a smooth and glowing complexion! This line is absolutely amazing.

Bella Dufek
For someone with very sensitive skin, it has always been important for me to know the ingredients of the products I use. Each product is carefully crafted with quality ingredients, organic, and nutritious for my skin.

Bree Gwinner
I have has skin issues my entire life. It's not easy to have clear skin especially for a guy who lifts daily and works a blue collar job. I have used other products but nothing else seems to work. This stuff really works. Try it out

Gabe
Best Toner iv ever used! This is so amazingly easy to use and it smells so good! Love that it's clean and doesn't have a ton of chemicals! Since I started using this three months ago my skin has completely changed.

Christina Cielke